Want to know how to back up your Apple Watch? the process isn't entirely obvious. Ensure your iPhone is in range of your Apple Watch and connected via either Wi-Fi or Bluetooth. Your Apple Watch has backed up automatically to your paired iPhone, and you can restore it from a store backup.
In this guide, we will show you how to back up your apple watch. Below, we'll not only tell you how to back up your Apple Watch but also exactly what's carried over when you restore it.
How To Back Up Your Apple Watch
Backing up the Apple Watch is quite different from how you might expect it, with your settings and data stored through your connected iPhone. As we just explained, since Apple Watch backup is tied to the iPhone, knowing how to perform this on the connected device is the route to backing up the smartwatch, too.
When you unpair your Apple Watch from your iPhone, the watch is backed up to your iPhone to make sure the latest data is saved. If you aren't confident about doing the job by yourself, you can contact Techyuga for Apple iWatch Repair.
How to back up Apple iWatch to iCloud
Here are the steps to backing up the iPhone through iCloud, and, in turn, the Apple Watch:
Go to Settings>[Your Name]>iCloud
Click iCloud Back Up
This will give you the option to turn on automatic iCloud Backup and also the option to manually back the device up then.
Once you've backed up the iPhone, the latest settings and data on your Apple Watch will be included in the backup.
There is an alternative method if you don't want to perform a manual backup of your Watch. When unpair your Apple Watch, the iPhone will automatically take a backup of the settings and data. Then, when you pair a new device, you'll be able to sync over this backup.
How to back up Apple Watch to Computer
Here is how to restore Apple watch with iTunes or Finder.
Connect your iPhone to your computer (Mac or PC) using your USB cable.
Open Finder, if you're using a macOS Catalina or later.
Open iTunes, if you are using an earlier version of the macOS software or a PC
Click your device and click the General tab.
Select Encrypt [device] backup box (you will need to create a password) if you want the backup to include your Apple Watch Health and Activity data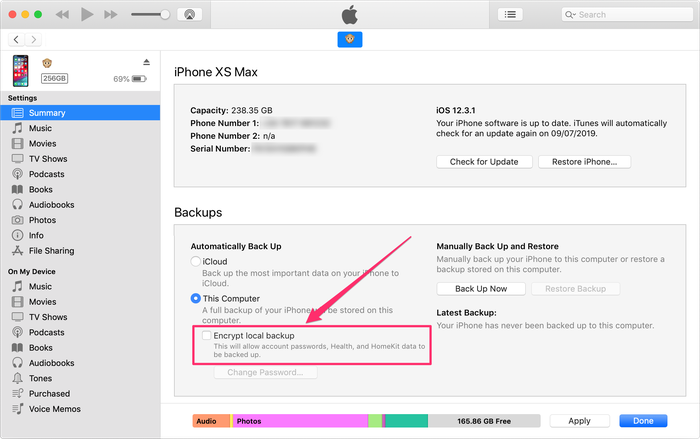 Hopefully, now you have got an idea of how to backup the apple watch to a computer
What if I purchase a new Apple Watch?
Your Apple Watch not backing up and if you purchase a brand new Apple Watch, you can follow just a few simple steps to restore your device from a previous backup:
Open the Watch app on your iPhone
Then choose Start Pairing.
Choose Restore From Backup.
From there, you can follow any of the instructions that appear on your screen to complete the process. Be sure to agree to the terms and sign in with your Apple ID.
How to Backup Apple Watch Without iPhone
Apple Watch is the most efficient smartwatch on the market. According to the company, the backup of the Apple Watch is stored on the paired iPhone and if you store the phone's backup in the iCloud or iTunes, the backup file of the Apple Watch will also be there. But several people are asking if it is possible to back up Apple Watch without iPhone, as somehow their iPhones have died or been damaged to the point that they are not working.
So, is it possible to back up Apple Watch without iPhone? Unfortunately, the answer is "No." It is not feasible to back up the Apple Watch without the attached iPhone. So, right now, when you pair your watch with a new phone or a replacement phone, you will only recover the data from the last time you backed up your watch while unpairing, and any current data will be lost. Because backups of activity and health data must be encrypted, backups created through iTunes without an encryption option will not include any health or activity data.
How To Restore Apple Watch From Backup
Your Apple Watch has backed up automatically to your paired iPhone, and you can restore it from a stored backup. Here's how to restore apple watch form backup?
You'll be asked to either set up the Apple Watch as a new device or to restore from an old backup.
Click Restore from backup. If done correctly, this should be the latest backup performed from the iPhone.
Will the backup include everything?
The backup does not include absolutely everything.
The backup does include:
General system settings, such as brightness, sound, and haptic settings, Siri and notifications
App-specific data (for built-in apps) and settings (for built-in and third-party apps). For example, Maps, distance, units, and your settings for Mail, Calendar, Stocks, and Weather.
App layout on the Home screen
Clock face settings, including your current watch face, customizations, and order
Dock settings, including the order, whether you sort by favorites or recents, and available apps
Health and fitness data history
Notification settings
Playlists, albums, and mixes that are synced to your Apple Watch, and your Music settings
Any synced photos under the My Watch > Photos > Synced Albums in your Apple Watch app
Time zone.
The backup doesn't include:
Bluetooth pairings
Credit or debit cards using Apple Pay.
Apple Watch passcode.
Messages (if you use iCloud and Messages in iCloud, your iMessages, text, and multimedia messages are stored in iCloud)
Conclusion on How To Back Up Your Apple Watch
Now that you know how to properly back up your Apple Watch, you'll also be able to restore your Apple Watch using a backup, which will come in handy if you ever need to reset your Apple Watch or upgrade to a new model. Now you can use your Apple Watch with no worries! As you can see, backing up your Apple Watch is pretty easy. All you need to do is pair your watch with your iPhone via Bluetooth. Just remember that as long as your Apple Watch is paired to your phone, every time you sync it, the backup will happen automatically.
Tips: If you are not confident about doing the process by yourself, you can contact TECHYUGA for Apple Watch Repair and Authorized Apple Service Centers In India.