Backing up your computer is probably not something you think about every day. You just think about how to back up your MacBook to an external hard drive. What will happen to all of your data if your MacBook unexpectedly goes black screen on you? So backing up your MacBook is important before you reset your Macbook or uninstall any program on your MacBook. Let's find out how to back up your MacBook to ensure that your precious data is safe in the event of an unforeseen event that leads to data loss.
How To Back up Your MacBook | Follow The Steps Below
Here I will discuss some of the tested methods, following which you can back up Your MacBook without losing your data.
However, if you are not confident about doing the process by yourself, you can contact TECHYUGA for all types of MacBook Servicing and MacBook Repair In India.
5 Easy Steps To Back up Your MacBook
Should damage or malfunction arise, it's important to know how to back up a Mac to an external hard drive to ensure you can keep all your files. There are 5 easy and simplest steps you can back up your Mac.
Backing up your Mac to an external hard drive

With Time Machine
Without Time Machine

Using iCloud
Using Dropbox or Google Drive
Use an off-site backup
Clone your hard drive.
1. How To Backup Your Macbook To External Hard Drive
As a MacBook user, you must know Macbook Tips, Tricks & Hacks. One of the best things you can do is regularly back up your MacBook. We'll outline the entire procedure to help you protect your files using Time Machine and an external hard drive. If you choose to back up your MacBook to an external hard drive, you need to make sure the drive is fully prepared. You should check two things before backing up your MacBook.
whether there's enough space in the external drive to fit all your data.
whether the drive is in the correct format.
To format your external hard drive so that it is compatible with macOS, follow these steps:
Connect the external hard drive of your MacBook
Go to Launchpad > Disk Utility.
From the sidebar, select your external hard drive.
Select the Erase button
Type in a name for your drive and select the format (it's best to choose the Mac OS Extended (Journaled) format).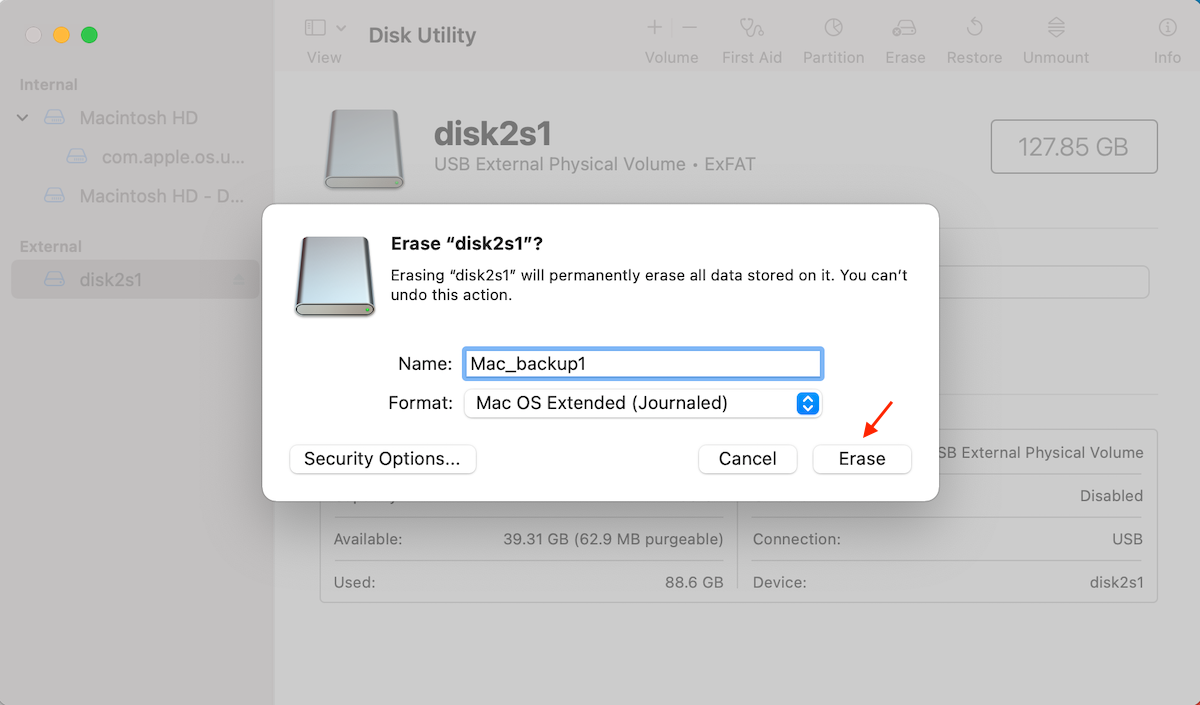 Here, we'll guide you on how to back up your entire MacBook to an external hard drive with and without a time machine
1. How To Backup Your MacBook With Time machine
Time Machine is a built-in backup feature on your MacBook. It automatically makes hourly backup versions of your computer that cover the past 24 hours as well as daily and weekly versions to cover the past month and all previous months, respectively. You can follow the detailed instructions for using Time Machine here, but basically, you only need to carry out the following:
Connecting your MacBook to a storage device
After that, you will be asked if you want to use this drive to back up with Time Machine.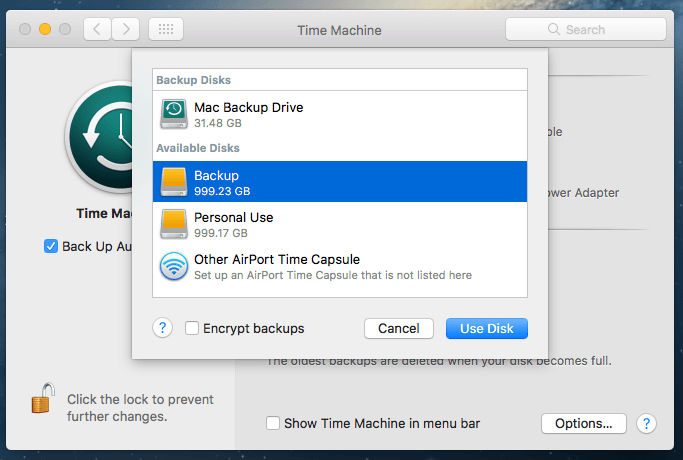 You can choose to Encrypt backups, and it is recommended that you do so. Then click on Use as Backup Disk.
If your drive is not recognized by the Time Machine automatically, then follow these steps:
Go to Apple icon>System Preferences>Time Machine
After you've selected your backup method and set up Time Machine on your Mac, it will automatically begin making those periodic copies of your MacBook, mentioned above. Keep in mind that the first sync may take a long time, depending on how many files you have. Here, you got an answer for how to back up your MacBook.
2. How To Back up Your MacBook Using Without Time Machine
How to back up your MacBook without a Time machine? Yes, it could be achieved in two ways.
Manual Back up
Automatic Back up with Specialized Software
MacBook Manual Backup
You can manually back up Mac data to an external hard drive without Time Machine. Just plug in the external hard drive to your Mac to get started and back up your data.
Click Finder> Preferences and examine the Hard Disks in Show these items on the desktop.
Now launch back up disk, generate a file folder and enter a name.
Now, open the Mac disk, hit the Users' file folder, and then highlight all files, including items that you want to back up.
Now drag all the highlighted files or folders to the Backup destination that you've just created.
Wait for the process to finish. The more files you've, the longer it takes to copy and paste to the external storage device.
MacBook Automatic Back-Up with Specialized Software
Manual backup takes some time. If you need to back up your Mac quickly, utilize a free third-party tool that backs up your computer to an external hard drive or other storage space.
First, download and install EaseUS Todo Backup
Click on the Add Backup tab in the lower-left corner to generate a backup project name it and select OK.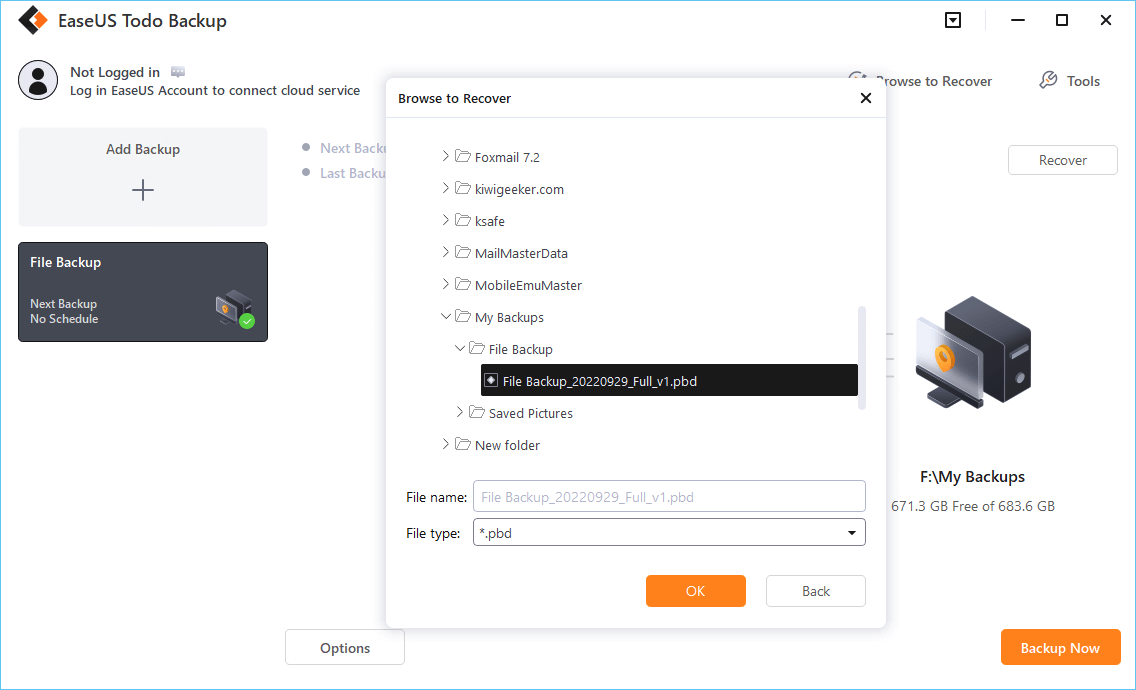 Set up the data location where you wish to archive Mac data as backups or automatically and hit OK.
Click on File+ to discriminatively handpick items to add to the project and hit the blue start key to back up your data to the external device.
2. How To Back up Your MacBook To An External Hard Drive Using iCloud
Another option for how to back up your MacBook to an external hard drive is using iCloud. Where Time Machine is a complete system backup, iCloud only stores selected files and data.
Click the Apple icon>Systems Preferences
Click on Apple ID.
Select iCloud in the menu on the left if it isn't already selected. Sign in to iCloud if prompted.
Click to check the box next to iCloud Drive if it's not already checked.
Click the Options button next to iCloud Drive.
Check the box next to anything you want to be stored in your iCloud drives, such as your Desktop & Documents or your Mail data.
Click Done
To save space on your Mac, you can select Optimize Mac Storage
If you need to purchase more data storage and sign up for a monthly subscription, click Manage
Select Change Storage Plan to purchase more iCloud storage space
To see your Mac iCloud Drive, open a Finder window
Then, click on your iCloud Drive folder to open it. You can copy and paste or drag any folder from your Mac to add it to your iCloud Drive.
Once this is done, you should be able to access these files on your other Apple devices! Now that you have a backup of your Mac's data in iCloud, you can rest easy knowing that your data won't be lost if something happens to your computer.
3. How To Backup Your Entire MacBook Using Dropbox, One Drive, or Google Drive
If you want to know how to do a backup on a MacBook then Dropbox, One Drive, or Google Drive could be a good solution.
MacBook Backup Using Dropbox
Using Dropbox, you can back up and restore selected folders and files online.
To sign up for a Dropbox account, download and install it.
Once the software is installed on your Mac, open Dropbox, and this will take you to the web interface where you can copy your files too.
Click on Upload Files or Upload Folder on the right, locate the folder you wish to upload, and click on Choose. Wait while the folder uploads.
When DropBox is installed on your Mac you will see a Dropbox tab under Favourites in the Finder, just drag and drop anything into that folder and it will be backed up to Dropbox, and accessible on any other computer or iOS device that has Dropbox installed.
The process is similar to the other cloud storage services.
4. How To Back up Your MacBook Using an off-site backup
An offsite backup is a backup process or facility that stores backup data or applications external to the organization or cores of the IT environment. To make sure your backup strategy is complete, you need to take it offsite and a simple way of doing that is to take it online. That's right — to the cloud!
The benefit of one of these dedicated cloud backup services is that the backup is remote – so if your Mac was destroyed in a fire or flood along with your Time Machine backup, you' d have a copy of all your data in a secure facility.
A. How to back up your Mac to an online backup service
As with the alternatives to Time Machine that we discussed above, the way you back up your Mac to one of these online services will be determined by the one you choose, however, the process is likely to run something like this:
Register for an account with the service – you may have to sign up for a subscription rather than make an upfront payment is often the case these days.
Install the software provided by the supplier and run through the setup process.
It's possible that the backup process will begin immediately. This can take A Very Long Time. How quickly the backup happens is mostly determined by your broadband connection, but there might be settings available in the app's Preferences that can let you speed things up.
Another way to speed things up is to leave some things out of the backup, so take a look through what's being backed up and deselect things that you don't need.
When the worst happens, and you need to restore your data you'll probably need to log in with your ID and password – so make sure you keep a copy of them somewhere other than on the Mac you are backing up.
5. How To Back up Your MacBook By Cloning Your Hard Drive
A clone is slightly different from a Time Machine backup because it can be used to boot from, so you could plug it into another Mac and boot up from it without recovering your Mac, which could be useful as a temporary measure. Here, we'll guide to your issue on How to back up your MacBook or MacBook Pro
The method you use to clone your Mac will depend on the software you are using to back up your Mac, the Mac you own, and the version of macOS it is running.
Connect your external storage device.
You may need to format, or reformat, the drive before you can use it. To do this:

open Disk Utility and with the external drive selected,
click on Erase
choose the macOS Extended (Journaled) from the format options
Then click Erase again
Open your cloning software.
Click on Copy and make sure that you copy all files, for example, because otherwise, your clone might not be bootable.
Before the copy gets undergoing you may need to enter your password and confirm that you are happy to erase anything on the external drive.
Wait for the cloning process to take a while, once it's done, click OK.
Conclusion On How To Back up Your MacBook
Backups are your best friends until… they become your enemies. As you can see, there is a multitude of techniques you can employ to back up your Mac. Failure to back up your machine leaves you exposed to data loss and all the problems which can result from such an event. If you are not currently backing up your Mac, choose one of the options above and start doing it today. You never know how to back up your MacBook when a backup may be required to recover your precious files.
This will help you always keep your data safe, whether you're planning to move it to another device, or if there's some kind of unexpected issue with your Mac. There was a step-by-step guide on how to back up Mac with and without Time Machine. Taking a backup of your device is the safest bet to make sure you will never end up losing your precious files and data. So, yes the question should not be "Should you back up your data" and in fact, you should ask yourself "How to back up your MacBook ".
Image Credit: ubergizmo