iOS 11 just came out for all the apple iPhone user and yes the upgrade looks really great with change in many things which is pretty awesome for apple users.
About iOS 11
iOS 11, released on September 19, introduces major design changes, new app features, and a complete interface overhaul for the iPad. Introduced on June 5, 2017 at the Worldwide Developers Conference, iOS 11 beta is the next-generation version of iOS. iOS 11 beta has subtle design changes to interface elements throughout the operating system.
With bolder texts, apps like phone and calculator having a new look and newly designed Lock screen and Control Center.
The Control Center is customizable with an option for a wider range of settings. And also expanded 3D Touch integration and many more new features are added.
What is new in iOS 11 beta?
There are lot of new features for the iOS beta –
The lock screen has been merged with notification center
Swiping down on the screen to access notifications now brings up the Lock screen.
Today view is same as before with a side swipe, and everything looks the same… There's just no separate Notification Center anymore.
Siri's voice is more natural and realistic and also in iOS 11 the main upgrade with siri as her intelligence has grown. Siri learns user preferences and syncs that information across multiple devices, allowing her to learn more about you and anticipate what you want. Siri can also translate English into different languages like French and Japanese, and Siri is more integrated with Apple Music.
A sturdy Dock at the bottom of the display makes it easy to launch and switch between apps, and there's a new App Switcher that's similar to Mission Control on the Mac, letting you see everything you're working on at a jiffy.
Drag and Drop option lets you drag content like images and links from one app and drop it in another, and on both the iPad and the iPhone, there's a new Finder-style Files app for managing files. Files lists all files stored locally, in iCloud Drive, in apps, and in third-party cloud services like Dropbox and Google Drive.
New keyboard features, like a one-handed keyboard on the iPhone and a "Flick" option for typing numbers and symbols more quickly on the iPad, and many of the built-in Apple apps have new functionality and feature updates.
Notes upgrades are searchable handwriting and document scanning.
Map is now upgraded with lane guidance which is inspired by google maps. Also indoor maps upgrade for few malls and hospitals.
Apple music receives an upgrade which allows you to see what your friends are listening to and also share that music.
What Changed in iOS 11?
iOS 11 came with lot of changes whether from design point of view or technical point of view making the OS stronger and more reliable and user friendly.
Changes in design:
Built-in apps have been modified with darker lines and bolder fonts.
Phone and Calculator have new designs with darker fonts and round buttons sans borders.
The Control center:
In iOS 10 the control center was split and accessed by swiping up from the display bottom, into multiple windows but in iOS 11 the control center is back in a single user-friendly window with new bubble styled icons.
The upper portion of the control center consists of networking part such as wifi connectivity and airplane mode etc. Also, it has the apple music on the upper portion just beside the network portion.
In the middle part of the control center, the on-screen volume rocker and brightness controller is located along with screen rotation lock, night mode button and screen mirroring.
At the bottom there are smaller buttons like torch, alarm, stopwatch, quick cam access etc.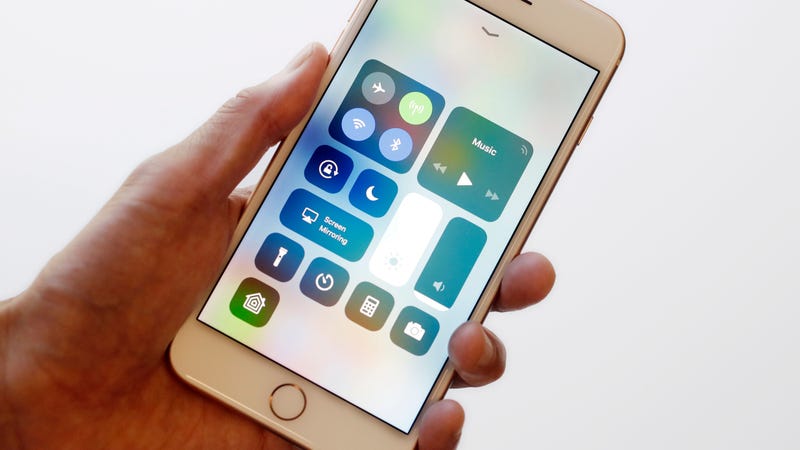 You can add or remove options from the control center as per your usage as well. Control Center also has expanded 3D Touch access. A 3D Touch on one of the icons brings up additional options. For example, with the Music icon, play controls are accessible by default, but with a 3D Touch, a bigger playback window opens up with song info and more granular control options.
But the control center is a whole different game-play when it comes to iPad a swipe up from the bottom of the screen opens up the App Switcher, where Control Center is located on the right side of the display in both landscape and portrait mode.
Lock Screen:
The notification panel and lock screen are now merged in iOS 11, when you pull down from the top of the iPhone or iPad's display to access your notifications, it's the Lock screen that comes down now instead of a separate Notification Center window.
A New Siri:
Experience with Siri will be better in iOS 11  with more realistic male and female voices that are designed to more closely mimic natural human speech. According to Apple Siri's new voice options are powered by deep learning for better pronunciation and a more expressive voice. As per apple's claim Siri will be a learning AI assistant, Siri will be closely monitoring and observing user habits and preferences and will advice the user as per his/her choices and preferences, not only that Siri will also sync your data from one apple device to another no matter what Apple device you use if you are logged in with the same id Siri will sync a distribute all your preference data to all your Apple devices.
But do not worry your data will not be leaked or jeopardized because apple has included End-to-end encryption the shared data can be only read by your device.
The Files App:
The iCloud drive is no more there in iOS 11 update there is a files app now and it stores all the local files folder wise and also files houses all of the content stored iCloud content, app content, and content stored in other cloud services like Dropbox, Box, One Drive, Google Drive, and more.
iOS 11 in iPad
Now let us tell how iOS 11 made changes in ipad. Unlike iOS 10 the iOS 11 was made more for iPad than iPhone this time they did not ignore iPad like before there are sufficient amount of changes that took place.
Expanded Dock – 
Like Macbook the doc has been expanded, unlike in iOS 10 now people can pull up the doc while using other apps in iOS 11. A quick swipe up from the bottom iPad's display will bring up the Dock regardless of what you're doing on the iPad, which makes accessing your favorite apps and switching between them much faster. The dock can hold up to 13 apps along with a user's most recently used app and Continuity icons when using Handoff.
With features like APP SWITCHER, DRAG AND DROP & Quick type keyboard etc apple made sure that this time the iPad users do not feel left out.
Compatibility Of iOS 11
Here is a list of all the device which will be updated with iOS 11. iOS 11 will run on all devices that have an A7 chip or better.
For iPhone,
iPhone 7
iPhone 7+
iPhone 6s
iPhone 6s+
iPhone 6
iPhone 6+
iPhone SE
iPhone 5s
For iPad,
2017 iPad Pro (12.9-inch)
2017 iPad Pro (10.5-inch)
2017 iPad (9.7-inch)
iPad Pro (9.7-inch)
iPad Pro (12.9-inch)
iPad mini 4
iPad mini 3
iPad mini 2
iPad Air 2
iPad Air
For iPod,
iPod touch 6th generation
So people enjoy the new iOS 11 and if you face any issue with your device just ping us we will be more than happy to help.